We Prepare Our Drivers For Safe Winter Transportation
Our Winter Waiting Program (WWP) provides training and essential guidelines to let our drivers stay efficient AND safe on the road. This include:
Each new season brings its own set of difficulties for the logistics industry. However, winter is notoriously challenging for managing transportation and the full range of logistics requirements essential to a smooth trip. Freight, air, and rail logistics safety measures must all be in place for the next winter months. 
I-Way Logistics has implemented essential measures to ensure the security of our drivers and the goods they transport during the severe winter season. We have successfully executed thousands of projects in all types of climates and climate extremes. For the benefit of our drivers and clients, we have compiled a comprehensive list of logistical safety solutions that can be used this winter and for many years to come. 
To ensure that our drivers face no obstacles in making their deliveries despite the harsh winter weather, let's take a brief look at what we're going to provide them.
1. Drivers Will Get Paid For Waiting
We know how challenging it can be for drivers during the winter months, with snow storms, slick roads, and other hazards. We recognize the importance of their work and have decided to compensate them an hourly rate for any time spent waiting due to inclement weather or road conditions.
If they ever feel dangerous while driving, they pull over to the side of the road and plan to continue when they think it is safe
Our primary concern as we manage winter transit is protecting logistics workers' health and safety of our drivers. Eventually, every shipping company will be impacted by poor weather conditions such as extreme cold, ice, snow, and low visibility. But we keep a close eye to the safety of our drivers by keeping them updated if there will be a sudden change in weather conditions.
First, we establish what we mean by "safety" for the team, and then we make sure everyone knows whether or not they will be doing any traveling. Reduced or halted transit can be inconvenient, but it helps us avoid costly mishaps, ruined goods, and more. 
If they ever feel dangerous while driving, they pull over to the side of the road and plan to continue when they think it is safe
"With this program drivers will get training on how WWP works. We provide all the necessary information for drivers to utilize on the road during harsh weather conditions. Safety is our number one priority"
– Avii Samra, Director of Business Development, I-Way Transport Inc.,

Are you looking to join as a driver?
3. The Weather Is Monitored Around-The-Clock
We have a dedicated staff member that checks the weather across the entire United States and Canada at set times so that we can keep our drivers informed. If we ever determine that it's too risky to continue driving, we suggest our drivers pull over until things are back on track.
As soon as terrible weather is predicted, the business will notify the vehicles to pull over. An employee who chooses to ignore the warning and continue driving may be fired immediately and barred from applying for similar positions.
At I-Way Transport, we place the security of our customers, employees, and the general public above anything else. 
Keeping drivers safe and on schedule throughout the winter is the top priority of our waiting programme. And since being in touch with the squad is essential to our success, we do just that. Our service providers maintain open communication channels year-round, making it simple for drivers to inquire about any issues they may have.
If the plan needs to be adjusted on the spot, because of terrible weather or something else, we'll ensure our drivers are aware of it. As a means of assisting drivers in making sound decisions, we will provide you with as much relevant internal and external data as possible. 
If they ever feel dangerous while driving, they pull over to the side of the road and plan to continue when they think it is safe
Despite temperatures as low as -40 degrees, impassable roads, and at least a foot of snow, it is not an easy task to ensure that freight is delivered both on time and without being damaged.
We provide heated trucks for our drivers to remain safe and warm even when they need to make deliveries in freezing weather while also adhering to strict delivery schedules. Shipments are shielded from the elements while they are in transit by being transported in a trailer that is both temperature controlled and heated. Because of this, the risks associated with moving goods while the temperature is below freezing have been reduced. 
Most drivers experience transportation difficulties during the winter season...
Poor Communication and Freight Tracking
Knowing the most prevalent difficulties that affect organizations is essential for preparing for supply chain concerns throughout the winter season. I-Way Transport has taken precautions to ensure the safety of its drivers during the winter months so that they can continue making deliveries as usual. Consequently, we are available to assist you if you need trustworthy logistics to support this coming winter.
Working with I-Way Transport as a driver is more safe and professional as the company will never force their drivers to move ahead when the weather is harsh in winters.
"The main thing in dealing with winter weather is to be vigilant, not being distracted and to have common sense."
Why Choose I-Way Transport:
Interested in working with I-Way Transport?
Logistics Company
Shippers have started looking into ways to ensure their supply networks aren't hampered further by the cold weather. Given the forecast for a challenging, snowy
Read More »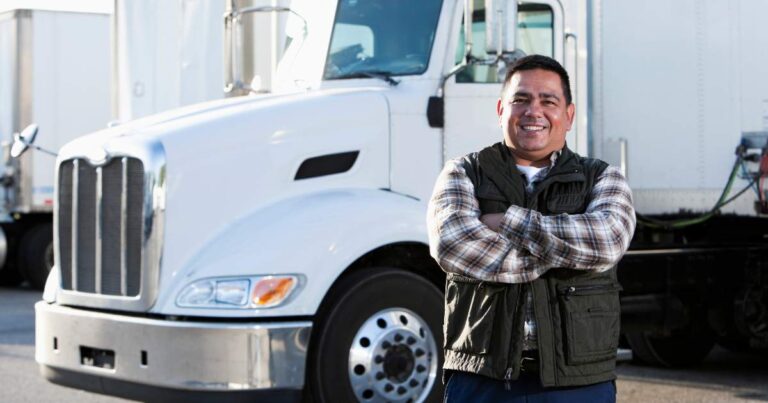 Logistics Company
Automobile owners, especially truck drivers, face challenges on the road during winter. When driving on snowy or slippery roads, the big-bodied motor vehicle used to
Read More »
Most Recent
In the winter months, logisticians face even more significant challenges when it is imperative to keep operations running smoothly while minimizing risks. Even though technological
Read More »